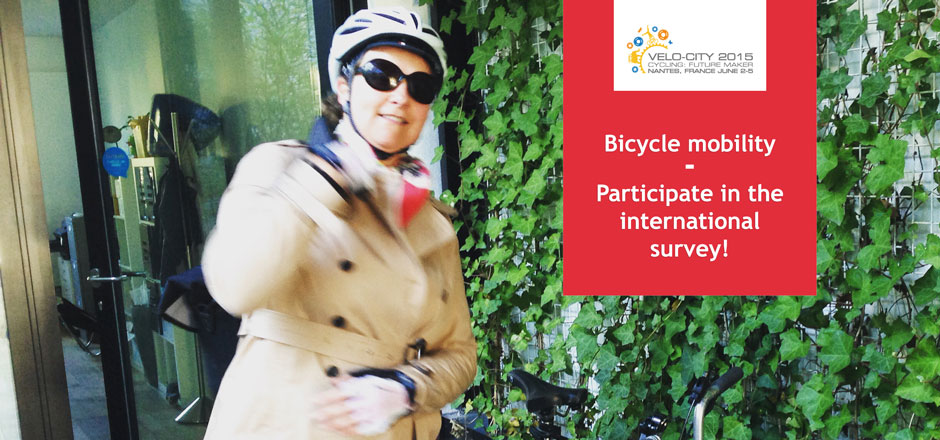 Take the #EFDV & Velo-city 2015 survey on bicycle mobility
This survey was available until 20/05/2015.  
25 questions about bicycle mobility
VERSION EN FRANCAIS
Velo-city 2015 takes place this year in Nantes. The editor of #EFDV, Muriel Vandermeulen, has the honour of appearing on the « woman, cycling and freedom » TV programme.
In conjunction with the event, a survey on bicycle mobility has been developed in cooperation with Velo-city. This survey includes 25 questions designed to identify trends, though it is by no means exhaustive! Following on, the Ellesfontduvelo magazine will undertake a second, more comprehensive study based on the trends identified in the first.
The results collected during the #EFDV & Velo-city 2015 study will be analysed and interpreted by Professor Caroline Closon of Université Libre de Bruxelles to ensure the full independence of results.
Results broadcast on Velo-city TV set
The findings of the bicycle mobility study will be shared on the Velo-city TV programme on June 4, 2015 at 10:30am, which will be themed « Women, cycling and freedom« . Respondents can also receive the results of the study by email upon request – simply complete the appropriate field in the survey.
Participate in the survey!
The survey takes about 10 minutes. Feel free to share this information with your cyclist and non-cyclist networks, both men and women, to ensure a maximum number of respondents before 20/05/2015.
Thank you in advance for your contribution. It will be invaluable.
I wish to answer the survey